WOPM 2019:  14. Aug – 16. Aug 2019
Program: The program can be found here
Posters: The poster session is here.
Venue: The WOPM 2019 will take place in the Helmholtz Institute in Mainz.
Please find the directions here.

WOPM 2019 is the seventh in a row of workshops held on a yearly basis since 2013.  While last year's WOPM was a satelite workshop of BIOMAG 2018  focussed on biomedical measurements with an emphasis on OPM-based magnetoencephalography, this year's workshop will have a broader scope, covering topics such as
Novel OPM methods
OPM applications in medicine, biology, airborne, space, earth
OPM for fundamental science
OPM theory
We have the pleasure of inviting all (experimental and theoretical) researchers working on optical magnetometers and their applications to present their results at WOPM-2019.
The registration to the workshop is now open and will close on July 1, 2019. Abstract submission is possible until June  14, 2019.
We will select the speakers for the final program for the WOPM workshop until July 19, 2019.
The WOPM 2019 will take place in the Helmholtz Institute in Mainz.
Please find here the website of OPM-Workshop series including previous WOPMs.
Registration fee:
EUR 100.00 to be paid via bank transfer to:
Recipient/Zahlungsempfänger: Landeshochschulkasse Mainz
Bank: Deutsche Bundesbank Filiale Mainz
IBAN: DE25 5500 0000 0055 0015 11
BIC: MARKDEF1550
Reference/Verwendungszweck:
6101 28286  9552078 WOPM + Name of the participant
Please make sure that the registration fee arrives in Mainz before you do.
Accomodation:
We reserved hotel rooms in Mainz for the WOPM. You can access them here.
Invitation or Confirmation Letters:
Please request personal support here
Organizers:
Arne Wickenbrock (Mainz)
Ilja Gerhardt (Stuttgart)
Local Organizing Committee:
Christine Best
Eva Maas
Dmitry Budker
Geoffrey Iwata
Georgios Chatzidrosos
Dimitra Kanta
Huijie Zheng
Zhiyin Sun
Hector Masia Roig
Yinan Hu
Anne Fabricant
Scienific Program Comittee:
Peter Schwindt (Chair, Sandia National Laboratories)
Svenja Knappe (University of Colorado & Fieldline Inc)
Tetsuo Kobayashi (Kyoto University)
Lauri Parkkonen (Aalto University & MEGIN)
Erling Riis (University of Strathclyde)
Tilmann Sander (PTB Berlin)
Arne Wickenbrock (Helmholtz Institute Mainz)
Here is the present poster for download: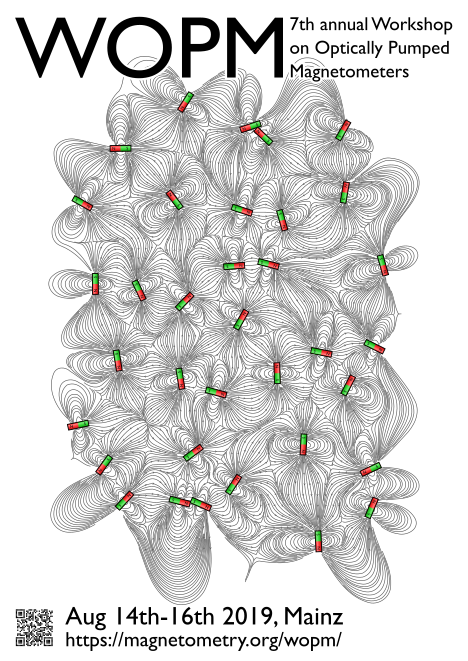 This workshop is kindly sponsored by: